Post by Amritha Varshini on Aug 17, 2013 14:49:27 GMT 5.5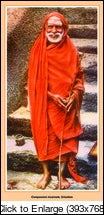 "Natha Vidhatre"
One who is worshipped by Brahma. Vidhatha is Brahma. natha here is the same as nutha in vIranutha - means one who is worshipped. We all know the story. Subrahmanya asked Brahma for the meaning of Pranava Mantra; Brahma could not give a satisfactory answer. And our young boy imprisoned Brahma and took over his duty of Creation. In some temples, we can see Subrahmanya donning the japamAla and kamandalu of Brahma (eg. Kanchi Kumarakkottam). Shiva came to Brahma's rescue, "OK my son, Brahma does not know; you tell me the answer, if you know". Pat came the reply, "I can not be talked to like this; if you want the answer, ask like a student does, not like a teacher". Even great people take pleasure in losing to their offspring! Shiva went down to Subrahmanya and got 'PranavOpadEsha'. A lesson to all of us - in pursuit of knowledge, there is no shame. Having now realized Subrahmanya's greatness, Brahma worshipped Him and was released back to his job.
"Devaraja jamathre"
son-in-law of Indra, we have already seen this.
"Bhuradhi bhuvana bhoktre"
'bhUrAdhi' - earth and other; bhuvana - worlds. It is customary to classify the infinite number of worlds into 14, of which seven are below, and further summarizing as 'bhUr-bhuva-suvar' ie lower, middle and upper worlds. Recognize these? Gayathri again! We add a 'Om' to it and recite as part of many our rituals. The idea is that the fruits of our rituals should reach all of the people in all of these worlds. 'bOkthA' means ruled by, enjoyed by. Are not the happenings-on in all these worlds at and for His pleasure?
"Bhoga moksha pradhatre"
As seen, He is the one who rules over and enjoys all good things in this world, while giving us the illusion that we too enjoy various pleasures like wealth, position and fame. 'dhAthA' - one who gives. 'pradhAthA' expert at giving. In the fourth person, it becomes 'pradhAtrE'. As long as this illusion - drama - is on, it is fine for us to enjoy, and for Him to give. But if we delude ourselves into thinking that this drama is the real thing, we are fools. Once the drama is over, should we not go back to our real selves? This is the state when the mind (manas), the drama stage, dies and the Atman alone exists. He gives us this state too as 'agnAna dwAnta savithA', 'mOksha pradhAthA'. If we seek moksha from Dhanalakshmi, or from Santhanalakshmi, we are not going to get it. And Dakshinamurthi would not give us wealth or offspring, either. Subrahmanya gives us both bhogam and moksham. There is nothing more to say after this sentence, and the kriti ends.
Paramacharya further tells Ariyakkudi and the gathering at large, "I'm happy to see that you, coming from a good guru-sishya parampara, are preserving good music. You must also bring up good disciples and keep the tradition going. A Brahmin, having learnt Veda, has a compulsory duty to teach atleast one more person (athyApanam). This can apply to other sastras and arts too. "One more point about musicians. You should sing the Telugu and Sanskrit kirtanas fully aware of their meaning. It is not fair to say that Tamil songs alone are enough. Great composers in this country have created hundreds of Telugu and Sanskrit songs of much musical and lyrical beauty. If we ignore them, the loss is ours. Do not defend by saying, 'I do not understand them!' - if only we desire, do we not spend time and energy on all sorts of useless things? If musicians dedicate themselves to pure music and proper rendition of words without losing the 'osandha artha visEsham', language can not be a barrier. Now that you are #1 in the music world, do your best towards this. May Subrahmanya's Grace be with you in this endeavor."
Ariyakkudi was totally moved. He took leave saying," This has been the best day in my life". And Paramacharya went back to his penance the next moment.
"Shri Subrahmanyaya Namaste" composed by Sri Muthuswami Deekshitar
Raga: kAmbhOji
Tala: tishra Ekam
Pallavi:
Shri Subrahmanyaya Namaste Namaste
Manasija Koti Koti Lavanyaya
Dina Sharanyaya
Anupallavi:
Bhusuradhi samastha jana pujitabja caranaya
Vasuki thakshadi sarpa svarupa dharanaya
Vasavadi sakala deva vandi taya varenyaya
Dasa jana abhista prada dhaksha thara agraganyaya
Charanam:
Taraka simha mukha surapadmasura samhartre
Tapatraya harana nipuna tatva upadesha kartre
Viranuta guruguhaya agnana dhvanta savitre
VijayavallI bhartre sakty ayudha dhartre
Dhiraya natavidhatre devaraja jamatre
Bhuradi bhuvana bhoktre bhoga moksha pradatre