Post by Amritha Varshini on Apr 27, 2014 7:45:13 GMT 5.5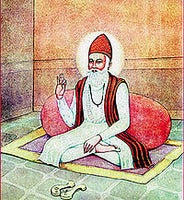 Moko Kahan Dhundhere Bande - Sant Kabir Das
Moko Kahan Dhundhere Bande
Mein To Tere Paas Mein
Where do you search me?
I am with you
Na Teerath Mein, Na Moorat Mein
Na Ekant Niwas Mein

Not in pilgrimage, nor in icons
Neither in solitudes
Na Mandir Mein, Na Masjid Mein
Na Kabe Kailas Mein

Not in temples, nor in mosques
Neither in Kaba nor in Kailash
Na Mein Jap Mein, Na Mein Tap Mein
Na Mein Barat Upaas Mein

Not in prayers, nor in meditation
Neither in fasting
Na Mein Kiriya Karm Mein Rehta
Nahin Jog Sanyas Mein

Not in yogic postures
Neither in renunciation
Nahin Pran Mein Nahin Pind Mein
Na Brahmand Akas Mein

Neither in the vital force nor in the body
Not even in the ethereal space
Na Mein Prakuti Prawar Gufa Mein
Nahin Swasan Ki Swans Mein

Neither in the womb of Nature
Not in the breath of the breath
Khoji Hoye Turat Mil Jaoon
Ik Pal Ki Talas Mein

Seek earnestly and discover
In but a moment of search
Kahet Kabir Suno Bhai Sadho
Mein To Hun Viswas Mein

Says Kabir, Listen with care
Where your faith is, I am there.
Poetry of Kabir
Kabir is a very important figure in Indian history. He is unusual in that he is spiritually significant to Hindus, Sikhs, and Muslims alike. Kabir openly criticized all sects and gave a new direction to the Indian philosophy. Kabir touches the soul, the conscience, the sense of awareness and the vitality of existence in a manner that is unequalled in both simplicity and style. It is for this reason that Kabir is held in high esteem all over the world. Another beauty of Kabir's poetry is that he picks up situations that surround our daily lives. Thus, even today, Kabir's poetry is relevant and helpful in both social and spiritual context. Following Kabir means understanding one's inner self, realizing oneself, accepting oneself as is, and becoming harmonious with one's surroundings. Kabir has written much poetry and song. All of Kabir's recorded verses are in Hindi. His lyrics are characterised by a free use of the vernacular, and is unfettered by the grammatical bonds of his day. It is this quality which has made his philosophy accessible to generations of Indians.
In our eMagazine Amritha Varshini we bring out poems of Kabir with meaning so that we can appreciate well the content of his poems. Under the Title Suno Bhai Sadho we also bring out the poems of other Saints like Sant Meera Bai, Tulsidas and Surdas.
Those who are interested to subscribe our eMagazine can mail to us at
amrithavarshini2012@gmail.com
We are glad to share one such Poem of Kabir today "Moko Kahan Dhundhere Bande".
You can listen to this song sung by Pandit Mahavir Chatterjee.