Post by Amritha Varshini on Dec 5, 2014 6:26:01 GMT 5.5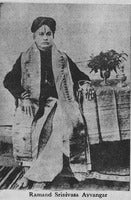 POOCHI SRINIVASA IYENGAR

In the great sishya parampara of Saint. Tyagaraja, some musicians shone as composers and enriched the content of Carnatic music by their kritis. Of these, Ramanathapuram Srinivasa Iyengar (alias Poochi Srinivasa Iyengar 1860-1919) occupies a unique place. He was one of the earliest pupils of Patnam Subrahmanya Aiyar while Tiger Varadachariar and Mysore Vasudevacharya were to come under his tutelage in later years.

Poochi Iyengar was an erudite scholar, well versed in the Sangita Sastra, a great composer and an accomplished platform musician. Endowed with a rich and mellifluous voice, he soon made a mark as a front- rank musician and was held in esteem by his contemporaries. When Konerirajapuram Vaidyanatha Aiyar was asked to clarify a certain point in the science of music, he replied. " I am only a gayaka (singer). Go to Ramnad Srinivasa Iyengar and consult him. He is not only an eminent musician but a lakshana vidwan".

Srinivasa Iyengar was born on August 16, 1980, at Ramanathapuram as the second son of Narayana Iyengar, a school master and Lakshmi Ammal. He passed the matriculation examination from the High School at the place. Noticing his keen perception and aptitude for music (which he inherited from his mother) Pandidurai Thevar, the Setupathi's brother, put him under Patnam Subrahmanya Aiyar.

In a few years, Srinivasa Iyengar made astonishing progress by his assiduous practice and was singing with his master in his concerts. He was also fortunate to receive special training in raga alapana and pallavi from Maha Vaidyanatha Aiyar. Later, he was appointed court musician of Ramanathapuram Samasthaanam.

RICH AND RESONANT VOICE

With a musician's instinct, Srinivasa Iyengar instantly realised that madhyamakala was the main plank of Carnatic music and he became an adept in cultivating it. He had a rich and a resonant voice and sang in sthayi sruti with effortless fluency and could negotiate with ease ragas, kritis and pallavis in different tempos.

He had an extensive repertoire which included the songs of the musical Trinity, Patnam Subrahmanya Aiyar, Badrachalam Ramadas, Tamil composers like Gopalakrishna Bharati and Ramaswami Sivan, Thevaram and devotional hymns of Nayanmars, padas, javalis and tillanas. He was great devotee of Tyagaraja and one of his kritis in Ritigowla is dedicated to the saint composer. He took a leading part in Tyagaraja Aradhana at Tiruvaiyaru.

Srinivasa Iyengar was the embodiment of the ideal musician and carried on his professional activities with dignity. He invariably began his concerts with 'Viriboni' varna in Bhairavi, followed by kritis in ragas with Antara Gandhara like Pantuvarali, Harikamboji, Purvikalyani, Chakravaka and Gowlipantu.

An anecdote about 'Viriboni' varna shared with me by Ariyakudi Ramanuja Iyengar is interesting. At a concert at which he was accompanied by Dakshinamurthi Pillai on the mirdangam. Srinivasa Iyengar started off with his own varna in kanada. When he found the mrudangam player not accompanying him he asked him what the matter was, to which the reply came, "Andavane, my hands have been accustomed for so long to play well only for Viriboni. And they are hesitant to play for a new varna". The vidwan caught mood of the accompanist and with pleasure rendered 'Viriboni'.

Like his guru, he used to sing one or two of his compositions at the close of his concert at the request of rasikas. His favourite ragas were Shanmugapriya, Kapi, Kalyani, Sankarabaranam, Varali, Begada, Sahana and Useni.

Among the kritis which he rendered in his concert were: 'Nilotpala Nayake', 'Nee Madi Challaga', 'Garuda Gamana', 'Ni Padamule' and 'Sri Subrahmanya Namasthe'. He used to take up a pallavi in either Sankarabarana 'Mandahasa Vandana', Bhairavi 'Ma Madura Minakshi' or 'Mayaguda Madhu Rangayya', develop elaborately the raga and tana, and set the pallavi in intricate tala gatis. He often concluded his concert with a javali in Kapi and tillana.

IN CLASSICAL TRADITION

Srinivasa Iyengar learnt from his guru the secret of composing songs and has given to the music world about 100 pieces. He also evinced lively interest in the theory of music. He possessed an extensive library of rare books and manuscripts including treatises like " Tala Samudram" "Raga Tala Prastharam" and "Vyasa Katakam". He excelled as a composer in the classical tradition.

He has composed varnas, kritis, javalis and tillanas, and a Navarathnamalika. While his Mohana and Kanada varnas are familiar, his Varali varna(with sollukattu) and the varna in Narayani are not so well known. His kritis in Todi, Navarasakanada, Devamanohari, Purvikalyani, Useni, Ritigowla, Anandabairavi, Kedaragowla, Suddhasaveri, Begada, Saranga and Madhyamavati are current coin in the repertoire of concert musicians. His compositions in Harikamboji, Karaharapriya, Natabhairavi, Kiravani, Swararanjani and Megharanjini have become rare and are known only to members of his sishya parampara.

His tillanas have become justly famous and are popular on the concert platform and in dance halls. They are in Paraz, Todi, Poornachandrika, Kanada and Edukulakamboji. He has composed a kriti in Todi with a brilliant chittaswara (which Ariyakudi wrote for me in my note book) to mark the coronation of George V in Delhi. He has also composed tillanas in Kapi in Lakshmisa tala and Pantuvarali in Raghavardhini tala. His famous javalis are in Kaas, Kapi, Surati and Behag.

The circumstances which necessitated the composition of some kritis are interesting. The kriti in Anandabhairavi 'Sadbakthiyugala', composed at the behest of Panchapakesa Udayar, Trustee of Santhana Ramaswami temple at Nidamangalam. The anupallavi contains term 'Santhana Rama' Ariyakudi told me that the kriti "Saragunapalimpa" in Kedaragowla was composed by his master as a prayer to Sri Venkateswara to cure him of leg injuries, which he had received when he slipped and fell on the road, while returning from the bazaar. He had a fracture and was laid up. He makes an allusive reference to Gajendra Moksha in the charana of the piece.

There are many versions, including one given by the great Tamil Scholar, U.V.Swaminatha Aiyar, about the appellation "Poochi" to his name. It is said that "Poochi" meaning an insect, came to be associated with his name, because the sweet ring of his voice compared favourably with the hum of the hone rich bee.

Several of his compositions lie scattered in his notebooks which are yet to see the light of the day. Some have been published in stray volumes. The Music Academy, Madras, has published a volume containing some of his compositions. A compendious volume in Telugu (with swara notation) containing four tana varnas on pada varna, 18 kritis and four javalis, six tillanas and Navarathnamalika, has been published by N.C. Parthasarathy and his wife Dwaraka Parthasarathi. In two note books of the composer in my possession there are several kritis and varnas of Poochi Iyengar, Patnam Subrahmanya Aiyar and Tyagaraja written in Grantha characters.

Prominent among his disciples may be mentioned Salem Duraiswami Iyengar, Ariyakudi Ramanuja Iyenar, Karaikudi Srinivasa Iyengar, Karaikudi Rajamani Iyengar, Kuthalam Srinivasa Aiyar, Raja Muddhuramalinga Sethupathi of Ramnad, Jalatarangam Subbaiyar and Mannargudi Krishnamurthi Aiyar.


Article by Sri N.R. Bhuvarahan
Published in The Hindu dated 22.2.1970