Post by Amritha Varshini on Jan 26, 2014 8:31:49 GMT 5.5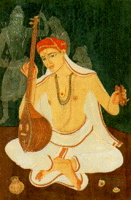 Tyagaraja Aradhana @ Thiruvayyaru
Saint Tyagaraja one of music trinity of carnatic music, composed many kritis in carnatic music. He lived in Thiruvayyaru, near Thanjavur. His entire life is fraught with 'Rama Bhakti' which one can experience in his compositions. The Saint lived in this world from 1767 to 1847 AD for period of 80 years. These 80 years are the Golden period for the Carnatic Music world as his compositions were melted out from his heart. There were many composers before and after Tyagaraja but it is Tyagaraja alone rules the heart of the Carnatic Musicians. The reason for same is the divinity in his compositions. Even a layman without knowing anything about carnatic music if he listens for a while he will be transported to a different world. That is the reason even the Rickshaw pullers in Chennai listen to carnatic music concerts especially during the December Season in the yester years.
Gana Raga Pancharatna Kritis
"Pancha" in Sanskrit means five and "Ratna" means gem and every song of Tyagaraja is a gem in its own right. Pancharatna kritis are a set of five kritis in carnatic music composed by Tyagaraja. They are popularly referred as "Pancharatna Kritis" or "Ghana Raga Pancharatnam" as they are set in five major Ghana Ragas. These kritis have incredible depth and spectacular musical beauty. These kritis are in praise of his beloved deity, Lord Rama and are long and extremely skilful musical compositions. They are set in the style of Ragam, Tanam and Pallavi with the Charanas substituting for the Kalpana Swaras i.e. improvisatory passages in the Pallavi section of the RTP. The Pancharatna kritis consist of the following compositions :
1. Jagadanandakaraka – [Raga – Natta]
2. Duduku gala – [Raga – Gaula]
3. Sadhinchane – [Raga – Arabhi]
4. Kanakana ruchira – [Raga – Varali]
5. Endaro mahanubhavulu – [Raga – Sri]
As a token of respect the musicians pay homage to the Saint on his aradhana day and sing the Pancharatna Kritis on Pushya Bahula Panchami at Thiruvayyaru. Apart from thousands of songs of kriti type, he composed utsava sampradaya keertanas and divya nama sankeertanas which are sung in devotional congregations. He has also created two operas, Prahlada Bhakti Vijayam and Nauka charitram. While there are a number of songs in Sanskrit, the majority of them, including the operas, are in Telugu. Tyagaraja's literary genius was as great as his musical genius. His command over Telugu and Sanskrit lent not only an erudite dignity to his songs but gave a rare felicity and homeliness to his diction.
Attaining Siddhi
Tyagaraja was constantly chanting the Rama Sadakshari Mantra over 21 years and he completed chanting 96 crores of Rama Nama. He got the divine vision was Lord Ram at the age of 42. It was said Tyagaraja got the divine vision of Rama in his home located in the Thirumancha Street, at Tiruvayyaru. It is said he had a strange dream wherein Lord Rama appeared and informed him that he will attain moksha after ten days. Tyagaraja revealed this to his disciples and relatives during the 'Ekadasi Bhajan'. The saint took Sanyasa order on 5th January 1847 and attained Sidhi on the Pushya Bahula Panchami which corresponds to 6th January 1847. A Brindhavan was built on the bank of the river Kaveri at Thiruvayyaru with the honor and religious rites due to a Sanyasi and a Thulasi plant was put up.
The Thyagaraja Aradhana is a tribute to the saint composer Sri Tyagraja Swamy.
Here is the link to hear the Pancha Ratna Kritis sung at 164th Aradhana Tiruvayyaru