Post by Amritha Varshini on Jan 22, 2014 17:01:56 GMT 5.5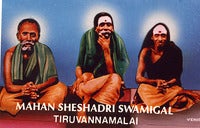 Monk with a Midas Touch - [Biography of Sri Seshadri Swamigal]

Family & Childhood

Thondai Nadu is the region located north of Kaveri Basin. The region consists of the present day Kanchipuram, Tiruvallur, Vellore, Chengalpet, Tiruvannamalai, Vizhupuram, Cuddalore, Pondicherry and Chennai Districts of Tamilnadu and also includes the Chitoor and Nellore districts of Andhrapradesh. Thondai region was ruled by Chola and Pallava Kings with Kanchipuram as its Capital. It is said,

"Ayodhya Madhura Maya Kasi Kanchi Avantika!
Puri Dwarakavathi Saiva Sapthaithate Mokshadaiyeka!"

The above poem reveals that the Holy India consists of Seven Mokshapuri i.e. "Ayodhya, Mathura, Maya, Kasi, Kanchi, Avantika, Dwaraka" and the only place which is located in South India is Kanchipuram. In this holy city the Goddess Kamakshi prevails in the form of Shakti. There are 51 Shakti Peetas across India and this one such Shakti Peeta. The great Saint Adi Sankarachyara when he visited Kanchipuram he felt the Goddess is in a ferocious mode that the entire Sanctorum was very hot. So to personify her and accomplish to the normal state the Saint sung in the praise of the Goddess named "Soundarya Lahari" and established Sri Chakra in front of her idol to keep her cool and personified. This Sri Chakram is visible to all and all the poojas are done to the Sri Chakram too. Sri Adi Sankaracharya established the cult of Sri Vidya for the welfare of the world. In this connection he went to Central India and brought about 30 families of Devi Upasakas to Kanchipuram. These families were called Kamakoti Vamsa and spread the Sri Vidya cult across the country and everyone of the Kamakoti family was like a Rishi. In 1790, Kamakoti Sastri was born into one of these families. Even though he had a daughter he also adopted one of his brother daughter a girl named Maragatham. At the appropriate time Kamkoti Sastri started to search for a husband for this beautiful and learned girl and selected Varadarajan one of his own students. The Couples were later blessed with a Son by the grace of Goddess Kamakshi who was born on 22nd January, 1870 on the Hastha Star. Since he was born on a Saturday, He was given the name of Seshadri in honor of Lord Srinivasa. Even from his earliest years the child Seshadri would perform pujas, sing prayers with concentrated devotion, sit in meditation and go off into spontaneous trances. He was neither interested in games nor displayed negative characteristics. Everyone regarded the boy as a Divine child.

Midas Touch!

A strange incident took place and the young Seshadri got the nickname 'Golden Hand' (Thangak Kai) . Every day Seshadri mother Maragatham took the young child to the temple. On their way one shopkeeper used to sell Lord Sri Krishna idols. One day the child got down on seeing the beautiful idols of Lord Krishna and told his mother that he would perform pooja to Lord Krishna. The shopkeeper was so happy and taking the radiant Child himself resembled the Lord Krishna gave the idol and refused to accept the payment. The next day when Margathammal went with the child to the temple, the shop keeper prostrated at her feet and took the child's hand and saluted it saying "Golden Hand…Golden Hand" (Thangak Kai). All the bystanders were surprised at the attitude of the shop keeper. The shop keeper then told that his entire consignment of idols were sold out yesterday which never happened earlier and attributed the luck due to the Midas Touch of the young Seshadri and started addressing Seshadri as "Thangak Kai" Seshadri which means Seshadri with a Golden Hand. We can presume this is the beginning of the many miracles which Seshadri Swamigal performed later and even continues to do so even now.

At the age of five young Seshadri was initiated with scared thread (Upanayanam) at an auspicious ceremony attended by many scholars and on the same day started to attend Patasala in Kanchipuram. Quickly he showed an almost superhuman intellect and memory and exhibited extraordinary debating skills. In this way years went until the time Sri Seshadri reached his fourteenth year and his father Sri Varadarajan died unexpectedly. His grandfather Sri Kamakoti Sastrigal arrived to pacify the bereaved family and took them to live at Vazhur. It was here Seshadri Swamigal completed his education and mastered various texts in Sanskrit and Tamil.

He mastered the whole Vedanta with three primary texts i.e. Gita, Upanishads and Brahma Sutras besides Vedas, Nyaya and Vyakarana. He had also mastered music and astrology. With his education now complete Seshadri's mother tried to arrange a marriage between her 17 year old son and the daughter of a relative but when it was discovered by examining Seshadri's horoscope that he was destined to become a Sannyasi and Yogi the marriage plans were swiftly cancelled. His mother becoming more self absorbed started to lose interest in worldly affairs and became increasingly weak ignoring food and medical treatment. One day she called her son to her and predicted her death the next day. The next day at her bed she called her child to her and repeated a sloka from Adi Sankara's Baja Govindam then together they sang the song 'Ambasive' after which keeping her hand on his chest she called out "Arunachala.. Arunachala…Arunachala……" and laid herself on his lap and died. Later Seshadri drew a picture of Arunachala by instinct and worshipped this picture.

Austerities as a young man

After both his parents had passed away Seshadri's uncle gladly took charge of Seshadri and the younger brother Narasimha Josiar. In his room Seshadri did numerous pujas and continuous japa to pictures of Goddess Kamakshi, Lord Ram and to one of his own drawings of Arunachala Hill. He would lock himself up in his room at five in the morning and refuse to come out before noon. He regularly fasted and could often be heard shouting Arunachala, Shonadrinatha or reciting Vedic hymns late at night. His uncle and aunt were frightened by his strange worship and begged him to stop. But Seshadri would not listen.

He was seen in Chakrath-Azhwar and Kamakshi temples for several hours chanting mantras, slokas, etc. His rigorous and exacting religious practices were viewed with concern by his foster-parents who were taking care of him. He got immersed in Sri Kamakshi's divine form and regarded himself as Goddess Parvathi (Sakthi aspect of Brahmam). He began doing his meditations in Rudrabhoomi (cremation ground) which was resented and questioned by his people. He was wandering in the streets of Kanchipuram, when he met a Gouda Sanyasi, Sri Balaji Paramahamsa, who finding him worthy and fit, gave him sanyasa (the fourth stage of asrama in one's life).

On the due date, Séshadri's father's annual ceremony was performed. To give him his father's blessings, he was brought home forcibly and kept locked in a room. At a stage, when the room was opened his relatives noticed that Séshadri had disappeared from the locked room and then only realized his greatness and attainment. He was 19 years of age then.

After sometime he was noticed in the temple precincts of Sri Mukteswara at Kaveripakkam, 20 miles away from Kanchipuram. One day, in the temple, a big serpent came out; Seshadri beckoned it and it came and coiled over his body and held its hood over his head. Those who witnessed were awe-struck. Seshadri now "Seshadri Swami" was unperturbed. His act showed that all creations of Almighty are alike and is all pervasive. Shortly after Seshadri started to travel to various spots in Tamil Nadu eventually ending up at Tiruvannamalai. Seshadri Swamigal reached Tiruvannamalai in the year 1889 AD at the age of 19 and stayed there for next 40 years till he dropped his mortal coil.

Miracles of Seshadri Swamigal

Many devotees have experienced miracles through Mahan Seshadri Swamigal. Here we can see few of them :

One Vitoba Swamigal was at Polur which is about 10 miles away from Thiruvannamalai. One day Sesahdri Swamigal was running in the streets of Thiruvannamalai shouting that Vitoba Swamigal was ascending to Heaven. Later the news about Vitoba Swamigal attained Mukti on that day reached Tiruvannamalai and every one were astonished to note the siddhi or the spiritual power of Sri Seshadri Swamigal.

The Post Master General, Mr. F.T. Peters' brother-in-law, an English man, was a Station Master in M.S.M. Railways. He and his sister (wife of P.M.G) were great devotees of Sri Seshadri Swamigal. There was a complaint against him. A wealthy Gujarathi had filed a lawsuit against the railways, claiming damages to an amount of nearly a lakh. It looked like Mr. Peters' brother-in-law, would lose his job and would have to pay a penalty of Rs.10,000. To protect himself from such an eventuality he had submitted the relevant records of accounts to the court. Due to unforeseen circumstances, those records did not reach the court on time. This increased the suspicion against him, and threatened his career. He immediately sent a telegram to his brother-in-law to seek Swami's blessings. The PMG sent Postmaster Shri Govinda Swamy Iyer to meet Sri Seshadri Swamigal in Thiruvannamalai. The whole day he could not locate Swami. At 8 pm in the evening, he met the Swami. Swami looked at him saying, "Bus, bus, bus, gup, gup, Ooh! Ooh! It went that way and came this way." Shri Govinda Swamy inferred that Swami referred to the Railway by His initial words and from the subsequent words that the records have been found and sent a message accordingly to the PMG. When the later received the telegram, there came another telegram to the effect that the records had been located. He was happy with that and the danger to his brother-in-law was averted.
All merchants, traders and workers of Thiruvannamalai look forward to the arrival of Swami in bazaar streets. His arrival was considered the visitation of Gods! On most of the days, Swami used to make a trip to the shopping street. Even when Swami was at a distance every shop-keeper used to get down from his shop and stand with folded hands and entreat Him to come to his shop; because Swami's visit would mean enormous boosting of business. The one shop where Swami would drop in even without being so invited, was that of Muthiyalu Chettiar. It was no wonder then that his shop was frequently visited by Swami, who would scatter and play with rice, sugar and candy etc. He would open the cash box and throw the coins around. Chettiar would be quietly watching such pranks (Leelas) and worshipping Him.

Siva Prakasa Mudaliar was an ardent devotee of Sri Seshadri Swamigal. His salary was Rs.70/- per month. One day he was proceeding to his senior officer's house. On the way he encountered Swami who asked, if he was willing to accept Rs.10/- if He gave him. Mudaliar replied that his boss was angry with him and, therefore, would not give him promotion. Swami said, "Never mind if your boss will not give you promotion; I am offering you promotion and you accept it." Swami removed Mudaliar's headgear and put it on His head and garlanded him with His shoulder cloth. Both of them proceeded to the Circe Inspector's house. The Inspector's wife told Mudaliar, "From today your good days have come. Your salary will be raised." Avathar Sri Seshadri Swamigal laughed. Mudaliar got his increment of Rs.10/- over his salary of Rs.70.Later on it came to light that even though Mudaliar's DSP had vehemently argued against his promotion, the ASP had strongly supported his promotion and this argument had taken place on the same day that Swami had asked him if he was willing to accept Rs.10.
Ramana Maharshi and Seshadri Swamigal

Ramana Maharshi came to Thiruvannamalai seven years after Seshadri Swamigal's arrival. Seshadri Swamigal was immediately aware of the young Swami's state of Self-abidance and he felt a motherly love for him. Sri Ramana spent his time then immersed in the bliss of the Self in the Thousand Pillared hall of Arunachaleswara Temple. Urchins not understanding his state pelted him with stones. Sri Seshadri Swamigal tried to protect the young Ramana who seemed quite unaware of his body and surroundings. To avoid this unwanted attention Sri Ramana then moved into the Patala Lingam an underground vault in the temple. He remained there in deep meditation for many days oblivious to the ants, vermin and mosquitoes who were feasting on him. Sri Seshadri Swamigal found him there and asked his devotee Venkatachala Mudaliar to lift his child out. Later when Ramana was lifted from Patala Linga his body was affected with wounds caused due to insect bites and it was Sri Seshadri Swamigal who instructed his disciple to clean the Ramana's blood oozing wounds and later revealed the Greatness of the Ramana as a Saint to the whole world. Locals used to call Sri Seshadri as Mother Parvathi and Sri Ramana as Skanda.

Sometimes people used to Call Seshadri as Anna i.e. Elder Seshadri and Sri Ramana as Thambi i.e. Younger Seshadri. Once a devotee of Ramana told Sri Ramana that everyone called Seshadri a mad man. Ramana smilingly replied that there were three mad men in Arunachala. One was Seshadri, the second was Arunachaleswarar and the third was himself.

Sri Ramana said of Seshadri Swamigal that 'Seshadri Swamigal does not allow people to come near him here all are coming'. There were instances when devotees have experienced that Seshadri was Ramana and Ramana was Seshadri. They were contemporaries and each knew the greatness of the other. Sri Ramana's presence, when Sri Seshadri's body was interred and Sri Ramana's personal reading and approval of script of Seshadri's Biography showed Ramana's reverence for this great Mahaan.

Siddha Purusha Sri Seshadri Swamigal

He was an ascetic with a total disregard for either name or form. He had no home, dependents, property or any fixed habit or system. His acts were dramatic and deeply impressive. He would avoid rich food from wealthy persons but beg for cold gruel at a poor man's house. Sometimes he would take no food at all and on other occasions consume enough for ten people. He would eat and drink like one swallowing medicine or one being forcibly fed. Although he did not accept money he would sometimes receive expensive clothes but immediately transfer them to a poor person or tear the clothes into pieces and garland the tail and horns of a calf. He will enter any shop on the roads and pull out anything from them. The shopkeepers at Thiruvannamalai revered him and considered his visit and touch as a great blessing. If he was given plain new clothes, within a couple of hours, they would reach the state of his original clothes. He wore only a dhoti which would cover his toes and another piece of cloth swathed over his back and shoulders. He would squat anywhere regardless whether it was slush, dirt or refuse. When sitting, it was always in his favorite swastika asana.

Swamiji was handsome of medium height and fair countenance. His hair hung in short ringlets to the nape of his neck. His voice was soft and his smile was as sweet and sunny as a child. His body would not be at rest for a moment. He walked fast and those following had to run to keep up with him. He loved music, delighting his devotees with songs. If one asked, he would break forth into melodious song often drumming rhythms on nearby surfaces. Sometimes he would place his hands on his hips and dance.
He was a tapasvi of a very high order. One result of the mantras and sadhanas he practiced from his earliest years was the development of various siddhis and psychic powers. He could tell about the past and the future and read minds with ease. With this power, he fulfilled the desires of people by showing visions they wanted to see, both in dreams and while being awake. His miraculous touch is said to have cured many of those who came to him with devotion. Often when people saw him in the streets they would prostrate before him and he would get near to enable them to touch his feet.

Sri Seshadri Swamigal had deep devotion to God especially in the form of the Goddess Kamakshi, Lord Ram and Arunachala. In the practice of concentration (for days in his boyhood at Tindivanam and at Tiruvannamalai), he sat steeped in samadhi, oblivious of his body. He loved service and by his own example showed it as a noble ideal to live up to. People would say, 'He is a talking God,' 'A divine incarnation, a great yogi, a great siddha'. Others would say there were three lingas in Tiruvannamalai: One, Lord Arunachala, another Ramana Maharshi and the third Seshadri Swamigal. Speaking and walking among People, he was Sanchara-Dakshinamurthi (God as man on the move).

His biography vividly shows that he was a Jivan-mukta (a realized soul while in body). He did not have body-consciousness and was in ever communion with his Atman (Soul). He saw atman in everything-animate and inanimate. He was seen going round and round a stone pillar and doing pranams (offering his worship) and saying that he was seeing God in it. Similarly he used to worship animals-buffalo, donkeys seeing God in them.

Last Days

Having lived at Arunachala continuously for forty years and helping all kinds of people Sri Seshadri decided to finally shed his body. One day in 1928 during the month of Karthigai, he asked a devotee, 'Shall I build a new house and go away?' Meaning, 'I have completed my task, shall I now depart?' At first the devotee thought the question a prank but finally after many days and constant repetition of the question, she answered, that, 'He should construct a new house and practise yoga'. Sri Seshadri accepted Subbalakshmi's words as representative of Parasakthi's approval and satisfied he replied, 'Yes, yes, it shall be done!'. Some days later his devotees, who wanted to photograph him, gave him an oil bath and then bathed, dressed, scented, garlanded and photographed him. Immediately Seshadri caught a fever. For forty days his condition worsened and on the forty-first day he found the strength to visit Arunachaleswara one last time. On returning from the temple he sat down in a puddle of water and refused to change his wet clothes when he got back to the house. Within days, on January 4, 1929, Sri Seshadri Swamigal left his body and Tiruvannamalai was engulfed in sorrow. After preparation his body was brought out in procession which is said to have been so splendid that the entire stock of camphor in the shops of Tiruvannamalai was exhausted and all incoming buses were full and over crowded. The streets were jammed with devotees and the night seemed like bright day as it was so brilliantly illuminated by the burning camphor.

The air was filled with group-singing, devotional songs and the music of instrument players. It was at Agni Theertham that Sri Ramana Maharshi joined the procession.

Further on a samadhi was constructed and Sri Swamigal's body interred. That samadhi tomb is now enshrined within the grounds of Sri Seshadri Ashram on Chengam Road, Tiruvannamalai. The Seshadri Swamigal Ashram is located next to Sri Ramanasramam between the Second and Third Lingam on the Circumabulation route. Regular pujas are performed at the Samadhi of Sri Seshadri Swamigal.

Although Sri Seshadri Swamigal has shed his mortal coil, He is ever present helping, blessing and guiding his devotees to everlasting bliss. His own search brought him to Arunachala and it is to the sacred Hill that Swamigal tells all to look to, to fulfill life's highest goal.

[/font][/div][/font]