Post by Amritha Varshini on Nov 8, 2013 5:31:07 GMT 5.5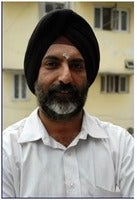 Malai Mandir is My Gurudwara
Dear Readers
After moving to Gurgaon, I used to visit at regular intervals to Malai Mandir located in R.K. Puram, in South Delhi. The temple is dedicated to Lord Muruga. The construction of this temple is associated with lot of miracles. The very idol of Swaminatha Swami was sourced at Thamirabharani River by the divine instruction of none other than Kanchi Mahaperiyava. The moolavar was performed with Vibhuthi Abhishekam by Kanchi Mahaperiyava himself at Kanchipuram before consecration at the temple.
I used to see a North Indian that too a Punjabi Singh actively involved in the temple activities. Upon enquiry I came to know that his name is Ishwinderjit Singh and an ardent devotee of Lord Muruga. For Ishwinder Malai Mandir is everything. Most surprising thing is that he knows Kandha Sashti Kavacham, Kandhar Anubhuthi, Vel Viruthum and other works on Muruga by heart.
I was taken by surprise the way in which he chants Kandhar Anbhuthi that too a North Indian who doesn't even know tamil. I think he has the full grace of Lord Muruga. Please see the following link to hear his rendition of Arunagirinathr's Kandhar Anubhuthi.
www.kaumaram.com/utube/ishwinderjit.html
Please see below his rendition of 'Vel Viruththam' at Malaysia's Batu caves Murugan temple
www.kaumaram.com/video/ishwinder_11.html
Wherever Ishwinder goes he first enquires about whether any Murugan temple is located in the area and visit the temple and also recites sthothras on the Lord.
Warm Regards
Anand Vasudevan
Malai Mandir is My Gurudwara – Article in Times of India
Murugan, Shiva's second born son, is now no longer a southern exclusive, discovers RANJENI A SINGH in the Capital
The Sree Uttara Swami Malai Mandir, perched on a hillock in R K Puram, south Delhi, is a regular destination for the city's nine lakh-plus Tamils. Unsurprisingly, they were in almost full attendance at the nine-day Skanda Sashti celebrations here that began on November 12. Invoked as Murugan in the south and as Kartikeya in the north, Shiva's second born has so far been a Tamil favourite. However, while the temple courtyard was abuzz with the Tamil-speaking white veshti-clad men and women with fragrant gajras and Kancheepuram saris, there was a sizable number of Punjabis and UPites who were engrossed in the Purnabhishekam, when priests performed the ritual of libation, pouring milk, ghee, honey, Panchaamrutam, sesame oil, rosewater, and sandalwood on the deity.
Ishwinder Singh, a Sikh and a Kartikeya devotee, has been a regular sevak at the temple for 10 years. "I first came here in 2002 and had a life-changing experience. There are many paths to God and I have chosen this," he said with folded hands and added, "Malai Mandir is my gurdwara."
Skanda Sashti is observed on the sixth day of the bright fortnight of the Tamil month of Aippasi (Oct-Nov). The day is dedicated to Shiva's second son, also called Subramanya and Velayudha, to commemorate his vanquishing the demon Surapadman. These nine days, devotees chant hymns, read stories of Subramanya, and enact plays. "We haven't forgotten our traditions," says K S Subramaniam, secretary, Sree Swaminatha Swami Seva Samaj Trust, happy to see youth turn up in large numbers.
The festival honours Skanda receiving the vel, or lance of spiritual illumination. It is believed that the special days are suffused with abundant, divine energy. Offering kavadi to the lord is another key ritual, said to bring peace and good luck to all. The story is that Murugan was testing Idumban for his determination and duty towards his guru by asking him to carry two hills, which he did. The kavadi that each devotee carries symbolises Idumban's burden. In this way, as they carry the kavadi, devotees hope and pray that life's burdens are lightened by the grace of Murugan.
The kavadi is a small, arched wooden apparatus adorned with cloth and peacock feathers, which the devotee balances on his shoulders. Milk pots hang on either side. Some 500 people took part in the kavadi procession around the hill.
After he freed the devas from Surapadman, Indra, the Devaraja, offered his daughter Devasena in marriage to Kartikeya. The wedding celebration is part of the Skanda Sashti festival on the last day. After the ritual, the temple trust offered a typical Tamil wedding feast.
However, before the wedding feast, devotees spent the special days fasting and in reflection, in an attempt to connect with the divinity within. Celebrations included abhishekams, laksharchana, chanting of Skanda Purana, Surasamharam and fireworks. The procession of a resplendent Murugan on a silver peacock accompanied by the sweet notes of the wind instrument Nadaswaram was followed by Veda Parayanam and bhajans. The celestial wedding of Devasana and Kartikeya on Nov 19 completed the festival.
Kindly read the article on Malai Mandir on the following link
Mahaperiyava - Uttara Swami Malai, Malai Mandir, New Delhi
amrithavarshini.proboards.com/thread/284/mahaperiyava-uttara-swami-malai-mandir
See below the article which appeared in Tamil Daily