Post by Amritha Varshini on Nov 1, 2018 4:42:48 GMT 5.5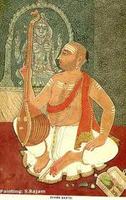 Palinchu Kamakshi – Raga : Madhyamavati – Composer : Sri Shyama Sastri

Pallavi

Paalinchu Kaamaakshi Paavani Paapa Shamani Amba

Meaning

Oh Mother Kamakshi, the one who destroys sins and purifies, kindly protect me.
Anupallavi

Chaala Bahu Vidhamugaa Ninnu Sadaa Vedukonedi Naayandela
Ilagu Jesevu Vetha Harinchave Vegame Naanu

Meaning

I always worship you in many different ways.
Why did you do like this to me? Oh Kamakshi please relieve my grief quickly.
Charanam:

Svaantambulona Ninne Dalachina Sujanula Kellane Vela
Santoshamu Losagevani Neevu Manoratha Phala Daayinivani
Kaantamagu Peru Pondithivi Kaarunya Murtivai Jagamu Kaapaadina
Talli Gada Nenu Needu Biddanu Laalinchi

Meaning


Oh Kamakshi, you always bestow happiness to all those pious people who think of you alone in their interior and you are the bestower of fruits of wishes. You have earned an attractive name. Are you not the Mother who protected the Universe by assuming a gracious form? I am your child Oh Kamakshi ! please protect by soothing me.
Charanam:

Ee Murthi Intha Tejomayamai Ituvale Keerthi Visphurthi
Italanu Guna Moorthi Lokamulo Jucindaina Galada
Emo Toli Nomu Nocitino Nee Paathapadma Darsanamu
Vemaaru Labhinchi Krtaartudainati Naa Manaviyalinchi

Meaning

He Kamakshi your form is an embodiment of all virtues having the radiance and fame which can never be found even if one searches in all the three worlds. Probably because I undertook some religious austerities in my previous births I got darshan of your divine lotus feet a thousand times and attained the bliss. Oh Mother, kindly protect me by heeding to my plea.
Charanam:

Raajaadhi Raajan Makuti Tatha Mani Raaja Paada
Ne Chaala Nija Sannidhini Kori Samasta Janulakella Varadaa
Raajamukhi Shyama Krishna Nuta Kanchipuri Eswari
Vikasa Raajeeva Dalaakshi Jagat Saakshi Prasanna Parashakti

Meaning

Oh Mother whose feet are illumined by the crown jewels of Emperors. I sought much your exclusive sannidhi, Bestower of boons to all people. Moon Faced ! The one who is extolled by Shyama Krishna! Ruler of Kanchipuram ! Blossomed lotus petal eyed! Witness of Universe! O Gracious Paraashakthi !
Svara Saahityam:

Kanaka Giri Sadana Lalita Ninu Bhajana Santatamu Seyani Jadudanu Vinumu
Nikhila Bhuvana Janavini Pudumaa Duritamu Deerchi Varaalichi

Meaning

O Lalithaa, resident of Meru golden mountain! I am such a dullard who did not perform your bhajana always. You are Mother of entire Universe. O Kamakshi Please listen and remove my troubles now, grant boons and protect me.
Sri G N Balasubramaniam
Smt M.S. Subbulakshmi